Who wants to win a $50 shopping spree plus free shipping from PetFoodDirect.com who has been delivering 15,000+ products to pet parents since 1997? Apparently quite a few people since we had an amazing 3,195 entries!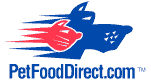 Ordering from their huge selection of products for dogs, cats, hamsters, fish, and even home accessories is so easy from the comfort of your home - no driving to the store, no waiting in a long line to check out, and they donate food to shelters in need through the PFD Rewards Program which allows you to earn points for joining, purchasing and sharing with friends and family.
So let's jump over to Rafflecopter to see who the lucky Kirby the Dorkie fan is that gets the $50 shopping spree plus free shipping just in time for their holiday shopping...
AND THE WINNER IS...
Entry #
2821
Cindy Brooks
Post Giveaway on FaceBook
results powered by Random.org
Congratulations Cindy! You will be receiving an email from us which you must respond to within 48 hours to verify your win. Kirby and Pet Food Direct hope you enjoy your shopping spree!
If you didn't win, don't forget you can still recieve FREE SHIPPING by using the Promo Code SHIPFREE at checkout on your next order of $49 or more.
Thank you to everyone who participated and watch for our next giveaway.